Tally Counter Pro
This software (or app) for Android tablet computers allows you or your organisation to undertake many kinds of count based surveys. The most commonly anticipated use would be classified traffic counts, but because the software is so flexible, there are probably dozens of other uses for it.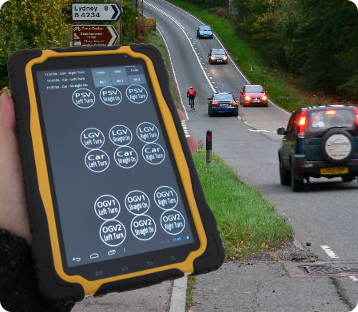 You have the option of using these weatherproof rugged devices, which we can provide for £300 each (in the UK), or you can install the software on your own Android tablets.
For many purposes these toughened units are perfect. They are readable outdoors, weatherproof and have mobile and WiFi connectivity, so you can get your data back quickly. They are also suitable for a 12 hour survey with a single battery charge.
If you wish to purchase these directly from our suppliers, we can put you in touch with them. Our software is what we add to the equation.
Once you have collected your data, it is uploaded to our server and from there it can be exported to Excel spreadsheets using the web-based interface for presentation or further analysis.
Depending on your use, you may want to see the individual events and the exact times at which they were recorded, or you may want your data grouped into 1, 5, 15 or 60 minute time slices.
Cost Savings
Even if you choose to use rugged tablet PCs, they still cost a fraction of the amount that conventional handheld data loggers typically do, and with our software they offer much more flexibility.
With proper configuration, you may no longer need to send any other instructions out to your enumerators, cutting printing and organisational costs.
As more and more people have their own Android tablets, some may even be able to use their own instead of your equipment.
If you use workers that are based in other parts of the state or country, you can easily send survey settings for them to use, and they can easily return the data to you via the online interface.
There are in fact so many subtle cost-savings, that we intend to add a section on that soon.