Traffic Data Reports Service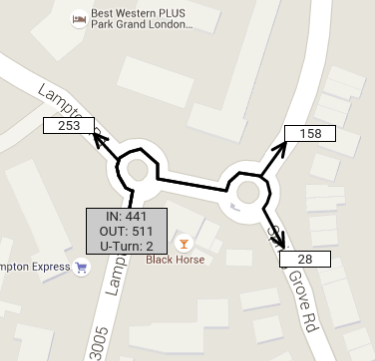 This service makes traffic survey data more accessible for the end-user. It is useful to traffic data collection companies, and any organisation who receives traffic data in Microsoft Excel.
The current system provides facilities for quickly and easily presenting classified junction turning counts, link counts and ATC data on Google Maps, and these will expand over time to cover other types of survey and additional functionaility.
The process is simple, and works as follows:
Contact us to setup a free account.
Sign in to your account, and setup a survey record for the data you wish to present.
Upload your enumeration or ATC data, and associate it with the new survey record.
Create a map for each dataset you wish to display.
Add any weather, observations and notes to the individual datasets and survey.
Explore your survey data in an easy to navigate interface, and send it via email to anyone you wish to share it with.
This process typically takes no more than two or three minutes per site, but if you're really short of time, we also offer a managed service where you just send us your raw data and we'll configure the junction maps for you for a small fee.