About Me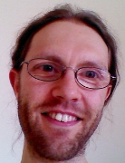 Since graduating with a BSc in Computer Science and Software Engineering from Lancaster University in 1999, I have been working for myself, developing my expertise in many areas of IT, particularly relating to the traffic data collection industry.
My areas of greatest expertise are in traffic and transportation data analysis, and quickly delivering innovative data management and analysis solutions to clients.
As well as developing data services, which DataDevil provides on a subscription basis, I also work with numerous organisations in the UK and internationally including data collection companies, traffic consultancies, county councils and hardware suppliers.
In my spare time, I enjoy playing the guitar and writing music.