Journey Time Survey Analysis
We are able to analyse both GPS track data, and ANPR or Bluetooth data to produce journey time reports.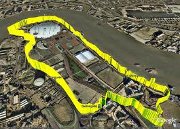 Using GPS Track data
We have developed software that allows me to take GPS track data in various formats and analyse it in conjunction with the waypoints of routes you are interested in. This process yields summary data about the routes, which are easy to understand and use in other applications.
Metrics include real times, elapsed times and instantaneous speed at each way-point along the routes. They can also include average speeds, queueing information and timing delays at control points.
Using ANPR, Bluetooth or RFID Data
Alternatively, we can obtain more basic journey time matrices by matching vehicle registration (or other) data between various points of interest. If we are also undertaking origin destination survey analysis, this information can be produced with very little extra effort.