Origin Destination Survey Analysis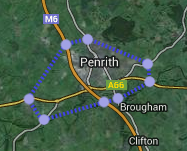 Whether you are carrying out a survey using ANPR, Bluetooth, WiFi or RFID, we can analyse your data and provide the results quickly in any format you require.
Having been asked to carry out many such analyses, we have invested a significant amount of time in developing software tools to help us with these tasks. They make the process fast, repeatable and error-free.
We are aware that some surveys actually require that the data is not only matched between entry and exit points on a cordon, but also against several internal points. This provides further detail about the routes vehicles are taking through road networks. Because the software we use assumes this possibility, it presents no technical difficulty. Obviously however, it can sometimes mean it is harder to specify how the data is to be analysed. We are happy to discuss this free of charge in advance of any work being comissioned, and can suggest practical approaches where this advice is helpful.
For a basic 10 point ANPR cordon survey, we can usually deliver the results in Excel format within 5 working days, and will charge around $450 USD. If you are able to supply detailed requirements, we can provide fixed quotes for this work.